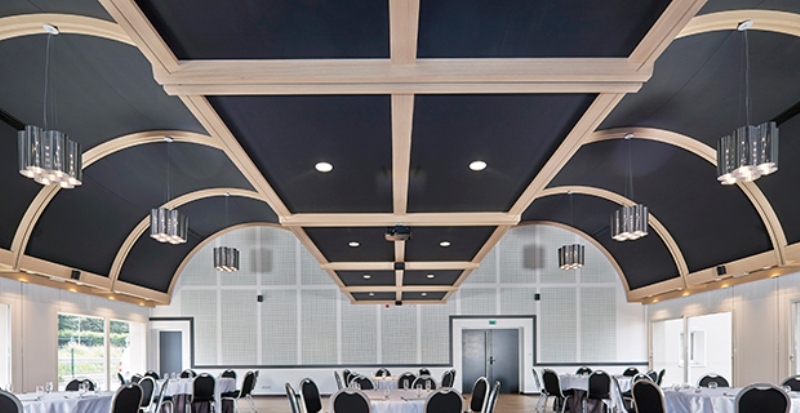 Counter ceilings "Batyline" from Ferrari® are made from extremely durable fabric with the structure of a mesh. "Batyline" fabric is a weave of thick polymeric fibers that meets all the fire and environmental safety requirements. This material contains no substances harmful for health or environment.

Counter ceilings "Batyline" are ideal for the implementation of comprehensive design solutions and for covering the ceilings of huge area: in gyms, swimming pools, hotels, airports, shopping malls and parking lots. This is a perfect choice when you need to create special acoustic conditions in the room, change the interior or just update the design. The fabric is available in wide range of colors and can be printed to achieve original visual effects. For a long time, these ceilings will full retain their original properties; they are easily washable and resistant to mold.
The material can be mounted on large and complicated facilities; its properties are suitable for any shape and structure. Special mounting system allows covering any areas without the additional complicated structures, and provides wide possibilities for interior decoration. Counter ceilings "Batyline" allow for multilevel counter ceilings, interesting visual effects, unusual colors and shapes.
The material has improved strength and can stand low temperatures so it can be used even in the street, on terraces and balconies.
Advantages:
• Stability of sizes and extreme flexibility
• Incredible mechanical strength - 8 tons/m
• Anti-fungal impregnation - the material is resistant to micro-organisms
• Resistant to high humidity environment
• Uniform porosity ensures fast drying
• Vent structure to ensure effective circulation of air
• Used to improve the acoustics in the room
• Light weight of the fabric makes it easy to use
• Highly UV-resistant
• Freedom of creativity for designers
• Easy and simple in use