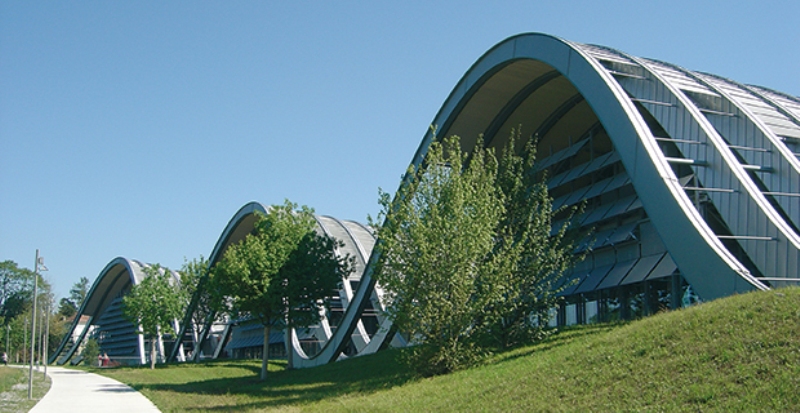 "Soltis" material can be used to protect from direct UV rays.
Sun-protective materials from Ferrari® regulate the effect of thermal radiation, as well as provide effective protection against glare. The selection of 46 colors makes the "Soltis" sun-protective fabrics a suitable solution for any architectural tasks. Sun protection "Soltis" utilizes the Precontraint Ferrari® technology which guarantees a continued dimensional stability of the material.
"Soltis" material provides maximum visual comfort for people working in the building, i.e., at the computers. This is possible due to double control of incoming light. A precisely balanced aperture (holes) for maximum shielding of the light beam allows for less than 5% of entry of visible light inside. Metallized side of the "Soltis" fabric removes the irritating glare and preserves the natural lighting inside the premises for complete comfort at the working places.
Sun-protective fabrics "Soltis" efficiently regulate the sun radiation thanks to their fine mesh structure. A "Soltis" fabric installed inside or outside absorbs and reflects up to 97% of sun-irradiated heat thus avoiding a greenhouse effect inside the building. This allows reducing the cost of air conditioning in the buildings. By reducing the energy costs, the "Soltis" fabric reduces the operating costs of the building as a whole.
Advantages:
• Retards penetration of blinding light by 97%, keeping the daylight and external review
• Absorbs 78% of the heat component of sunlight allowing to save on air conditioning in summer season
• Durability
• Antibacterial coating
• Stable sizes regardless of the duration of use
• Sun protection
• Suitable for printing
• Not harmful for the body
• Ecological material, suitable for re-processing
• Does not sag or deform
• Resistant to atmospheric impact and pollution
• Easy to mount