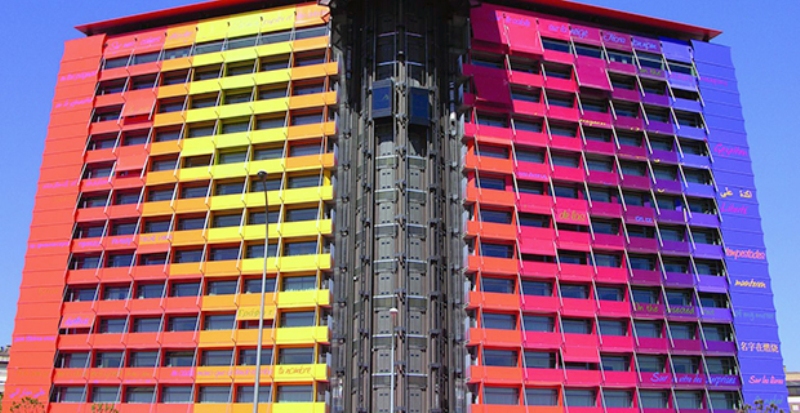 High-tech mesh materials "Stamisol FT" from Ferrari® for façade decoration.
Façade of the building is the most expressive element as it reflects the purpose of the building. Textile façade "Stamisol FT" is a unique material on the architectural market. This is the first really light (0.6 kg/m2) construction material with completely new properties.
"Stamisol FT" is a mesh fabric with a polyester base and a PVC coating applied by Percontraint technology. This façade material is highly transparent, and very advanced in its technical characteristics. Textile façades «Stamisol FT» combine the strength and efficiency of use. They retain durability throughout their service life, save heat, require minimal maintenance, are easy to repair and provide good temperature control in the building thanks to their protective properties against wind, rain, and sun.
The material is suitable for all kinds of civil construction: construction of office buildings, shopping centers and warehouses, industrial facilities, car parks, sports complexes, and any other buildings.
There is a plenty of variants how to mount a structure with membrane. In general, a mesh membrane is fixed to mounting profiles with the future stretching of fabric.
Advantages:
• "Stamisol FT" membrane is available in 27 popular colors what makes it possible to design a modern and interesting façade
• "Stamisol FT" membrane is suitable for printing so you can place advertisement and full-color images right on the façade of the building
• Very stable sizes
• Resistant to humidity
• High wear resistance in comparison with the meshes treated in a conventional manner
• Antibacterial coating
• Aesthetics
• Service life - 50 years without changing the physical properties
• Suitable for new and reconstructed buildings
• Transparency
• Light weight
• Quick mounting